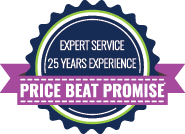 With over 20 years experience producing and distributing innovative advertising products in Australia we have a proven reputation for delivering quality merchandise at affordable prices.
We value our reputation and our membership of the Australasian Promotional Products Association. We always strive to offer the most competitive pricing possible, however if you find an identical product with the same level of decoration and delivery offered from a fellow member of the Australasian Promotional Products Association at a lower cost - we guarantee we will endeavour to do our absolute best to match or beat the quoted price*. If applicable we may even offer an alternate product that could be even better value for money that your selected product.
Our commitment is extended further to the quality of our production. We also guarantee that will not sacrifice the quality of your logo because understand that our clients' logo or advertising message needs to be protected.
Contact us today and put our Price Beat Promise to the test.
Product Information for Promotional Branded Merchandise
Submit your enquiry now for the product of your choice decorated with your logo or advertising message. Once submitted, one of our promotional experts will contact you to confirm your merchandise selection and decoration requirements.
Minimum Order Quantities for the Product
Due to the nature of the techniques used to brand advertising products minimums do apply. If your decoration is outside our normal minimum production process feel free to speak with our experts to find out about what other options may be available.
Set Up Charges
Most items require a decoration set up charge. Set up charges can vary depending on the item and decoration technique used. These charges will be confirmed when the quote is provided.
Can't find the Item You're Looking For?
We have a huge range of promo business items and branded corporate gifts. If you can't find what you're looking for, or want to consider custom promo merchandise made to suit your next promotional event, contact our Promotional Product Experts now and challenge us to recommend new, unique and innovative items that will enhance your corporate image.
Artwork and Decoration Details
To get the best branding result we need the best artwork possible. Our Promotional Product Experts can advise if there are any special decoration requirements for this item.
What Artwork Needs to be Provided?
As a standard we require your logo to be provided in vector .eps format. For more detailed specifications click here
Explanations of our Decoration Techniques
Want to know more about the decoration techniques used click here
Do I Get a Proof of My Artwork?
As part of our production process, once an order is confirmed, we provide clear artwork for approval showing how we will brand your merchandise. We do not place any items into production until our clients are happy to proceed.
Can I Get My PMS Colour Matched?
We will PMS colour-match unless otherwise stated. If PMS colour-matching is not possible on an item, the closest available colour will be selected. Our expert team can assist when selecting the most appropriate PMS colour or you can click here to view the PMS Colour Chart. For embroidery, we will select the embroidery thread colour that closely matches your specified PMS colour.
Haven't Got Original Artwork?
If artwork can't be provided to specification, we can assist with the re-draw of your logo to the most appropriate useable format. We charge $50 to recreate your logo to an acceptable format and we will provide you with a copy of the logo.
How Can I Send Artwork to You?
You can send artwork by clicking here, files can be accepted up to 6mgb. For larger files contact us for alternative methods.
new, unique and innovative items that will enhance your corporate image.
Production & Shipping Details
The standard production time to produce sports bags is approximately 2-3 weeks from order and artwork approval subject to stock availability. We make every effort that all merchandise featured on our website are in-stock and ready for branding. However occasionally our stocks are depleted and we will do our best to offer you a comparable sports bag that can be delivered on time and on budget.
Delivery and Shipping
We deliver to Melbourne, Sydney, Brisbane, Adelaide, Perth and all other cities and towns within Australia, even internationally, overseas using our fleet of carriers. We can also deliver using your preferred freight company or arrange shipping via your nominated carrier.
Need Your Products in a Hurry?
We love a challenge! If you have a tight deadline or need your merchandise for a specific promotional event, conference, product launch or to be used as trade show giveaways speak with our experts now.